J'accuse
P
enn's first published account of the Zodiac crimes was a November 1981 article for New York Magazine publisher Clay Felker's California magazine
—
formerly
New West
—memorably titled
Portrait of the Artist as a Mass Murderer
.

The account began a wholesale re-write of the Zodiac narrative at Penn's hands, casting the killer not as the insane, uneducated buffoon police investigators had portrayed, but as a calculating criminal mastermind.

Writing under the pseudonym "George Oakes" the same month Joan Webster vanished, Penn introduced readers to the serial murderer as "diabolical artistic genius," who had created "the boldest, most audacious, and largest conceptual art work in history using the most radical of materials: time and human life."
Pitting his intellect against the killer's, Penn promised to "solve" the case. Fusing substance with nonsense, his solutions were nearly as titillating as Zodiac's riddles. Taking the killer up on multiple promises that his identity lie in his cryptographic ciphers, Penn developed what D'Angelo called an "untenable yet mesmerizing theory: That various odd misspellings in Zodiac letters—'phomphit' in lieu of 'puff it'; 'cid' instead of 'kid'—were part of an elaborate mathematical code."
The broken code, Penn claimed, revealed the name of a real person—Michael O'Hare—who happened to be a brainy Ivy Leaguer with firearms training and a suggestive reluctance to sue.
A second mesmerizing theory added intriguing details. Penn claimed that O'Hare the architect had targeted his victims according to a Da Vinci-esque geometric design centered on Contra Costa County's Mt. Diablo—the Devil's peak.
Known among professional and amateur investigators as the "Radian Theory," the idea appeared to answer a riddle the Zodiac left in one of his infamous San Francisco Chronicle letters:
PS. The Mt. Diablo code concerns Radians & # inches along the radians
.
It also seemed to confirm in Penn some level of criminological prowess.
"The
Mt. Diablo radian theory
was a major contribution," Wark says. "No account of the Zodiac murders or their context can be complete without recognizing it. Gareth Penn's unconventional approach was the first real breakthrough in an unconventional case."
Captivated by Cryptograms
Penn's New West story caught the eye of Jim Laube, then a young Vallejo Times-Herald reporter whose "journalistic instincts" suggested this amateur sleuth might be onto something.
Laube wrote the first story about Penn's efforts (
left
), the first report anywhere of an amateur sleuth attempting to solve the infamous serial homicide case.

"Polite, casual, and thoughtful" on the one hand, Penn was also tenacious to the point of obsession, Laube recalled.
Living just outside Napa in Coombsville,
Penn "would call me in the middle of the night, which in a way scared me since no one else had ever (or has ever since) gone through such efforts to have a detailed discussion in the middle of the night," Laube
—
now
senior editor of Wine Spectator Magazine
—
said. "It sounded like Penn was wide awake, me asleep."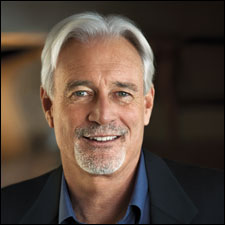 Laube
Laube's good friend John Thornton
—a retired forensic scientist
whom Penn would later discuss at length in his book about the Zodiac, Times 17
—
went
to school with Penn at Berkeley, where they lived in the same dorm "and were rather close friends," Thornton said. "Penn contacted me years later, when I was a professor of forensic science at Berkeley and he wanted to share his thoughts on the Zodiac. It was then that he revealed to me his notions concerning Michael O'Hare."
After retiring from Berkeley, Thornton worked in the crime lab of the Napa Sheriff's Department, where he took charge of the Zodiac case. "I was designated the 'Zodiac Bitch,' because I was the new kid. I had the responsibility of maintaining the files and occasionally dealing with a citizen who would come forward with their suspicions."
Like Laube before him, Thornton was captivated with Penn's observations about radians and Mt. Diablo. "If credible, it would be brilliant, and would provide some insight into the thinking of the Zodiac," he said.
The Zodiac Times
Following up his theories in a 1983-84
series of
articles
for
The Ecphorizer
, a San Francisco-based periodical of the genius society Mensa, Penn posited that "Mike O" was working in San Francisco when he committed the Zodiac crimes and teaching at Harvard when he murdered Ms. Webster.


A phone call from then-ABC News producer Dan Goldfarb (below, right) had made the co
nn
ec
tion.

Prompted by Penn's increasingly public allegations, "Goldfarb was in Massachusett
s, following O'Hare around for a

20/20

story," Penn told me. "He called all excited: 'There's a
murder out here that's exactly like the Zodiac.' He was almost screaming over the phone."
Penn elaborated further in two self-published books.
Times 17: The Amazing Story of the Zodiac Murders in California and Massachusetts, 1966-1981
is the alternative yin to Graysmith's mainstream yang, a hard-to-find underground favorite that sells for hundreds of dollars on eBay or Amazon.
Reading it is like watching an impatient director manipulate a stage full of actors: cynical FBI agents; weary private investigators; a tired, distracted sheriff; lawyers, neighbors, wives, children, witnesses, school teachers, editors, and journalists.
Exit all, but only after Penn paints each with prosaic, impatient chagrin. "The fools," he seems to be saying. "How can they not see that Michael O'Hare is guilty as Hell and that I am a genius for having discovered his identity?"
An even scarcer follow-up to 1987's Times 17, 1990's
The Second Power: A Mathematical Analysis of the Letters Attributed to the Zodiac Murderer
has Penn's "microscopic examination of O'Hare and the Zodiac progressing to an almost quantum level," Jake Wark says. "Where
Times 17
provided a theory as to who committed the murders, The Second Power provides one as to why."
The "why" involves what Wark considers an even more libelous allegation than serial homicide—serial sexual abuse, perpetrated, Penn claims, against O'Hare by his mother Berta.


Absent verifiable evidence, Penn accuses father Eugene O'Hare of beating his wife, and Berta Margoulies-O'Hare of a strange form of revenge—"cuckolding" her husband with her son Michael, starting at the tender age of seven.
With the ciphers, the letters, the phone calls, and the murders that form the Zodiac-Webster corpus delicti, O'Hare had invented his own "private language," Penn claims, to write a "Book of Secrets" that describes the recurrent sexual abuse in cryptic but graphic detail.
"Decoded" by Penn in The Second Power, the words
penis, balls, erect, jizz, creaming, semen, prick, cock, pecker, vagina, womb, hole, hard on, pussy, snatch,
and
incest
emerge.
"Childhood sexual abuse is all about terrible secrets no one will listen to," Penn told me, in a flat, somber tone that rarely fluctuated during our telephone interview. "Mike had been bursting at the seams to tell the world his own terrible secrets. But how do you communicate the pain of a father who molested you, beat your mother, and then drank himself into oblivion night after night? How do you put all that out there in a way that will force people to listen?"
Psy Ops
A
s if the barrage of accusations weren't enough, Penn explained in
Times 17
—a reference to the number of times Zodiac stabbed two of his victims—how he had carried out a "psychological war" against O'Hare with late-night phone calls; threatening letters; and postcards similar to those Zodiac mailed to the media. "To prevent further bloodshed," Penn wrote, "I would let him [O'Hare] know that somebody was aware of his secret identity."
The January-May 1981 campaign occurred six months before the Webster murder and six years before
Times 17
and its sequel.
"Michael O'Hare received a number of what you might call weird postcards (

below

) from me, all sent anonymously from a number of locations," Penn wrote. "I expressed in these postcards what I felt were allusions to Zodiac formulations that the Zodiac and nobody else would recognize. If O'Hare were not the Zodia
c, he would be baffled. He might even sue me. Bu
t I felt that was a small price to pay for being able
to sleep nights."


Increasingly sure of his target's guilt and vulne
rab
ility, Pe
nn copyrighted
Papers relating to the impending suicide of Michael Henry O'Hare
on 17 Ma
y 1989
, U.S. Copyright Office registration number TXu000354164.

"It was like warfare," Penn wrote. "I didn't know
t
hat it w
o
uld work, and it may have been the wrong course to follow. But this was an unpreceden
ted situa
ti
on. There was no rulebook to consult. In war, the rule books are always written af
ter the
sm
oke has cleared."
An FBI investigation
ensued after O'Hare filed his one and only le
g
al c
o
mplaint against Penn in
May 1981. According to
FBI files
, Federal agents considered c
harging Penn with extortion.
But he wasn't extorting anyone. Instead, he was insisting that "
binary
M
orse code"—a
mathematical medium he invented to decipher the Zodiac—had revealed
the killer's identity. What's more, he had letters of support from experts at the University
o
f Texas, University of San Francisco, the University of New Mexico, and
Leonti Thompson, M.D
., fo
rmerly chief psychiatrist for the California Department of Corrections, whom P
enn consulted when Thompson was practicing privately in Napa.
"Mr. Penn sent me some of his ideas," Thompson told me. "He said he had
discovered that a female passenger on the same plane as Michael O'Hare was seen talking to h
im during the flight and disappeared right after. I shared general concepts with him about the possible mental states of
someone who performed killings in a rit
ual pattern to fit symbolic landmarks. I thought he might have been onto something."
Ultimately, FBI agents dropped their inquiry, concluding that while Penn was "very absorbed with the case," he was "not in any way deranged."
Next
1, 2, 3, 4, 5, 6, 7, 8